Heatings - Webasto, Eberspaecher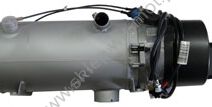 This

category includes both water and air heating from WEBASTO and EBERSPAECHER manufacturers

in the 12V and 24V version as well as control elements as well as water pumps and solenoid valves as well


as repair kits provided by the manufacturers for their use. We also deal with professional repair of these devices

being an authorized service of heating devices using only original components.


Each aggregate repaired in our factory is subjected to multiple tests checking their

work

on professional aggregate testing equipment as well as their components. 

By entrusting the aggregate for repair in our factory, you can be sure that the service

has been performed reliably. Welcome.